Posted on 1 July, 2017 by Faye - 1 Comment
#ReadWithPride; George by Alex Gino
Hello All!
Today I am here with a mini-review of the fantastic George by Alex Gino and a chance to win one of three copies too!
---
About the Book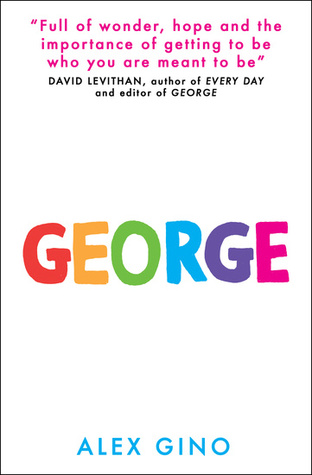 "When people look at George, they think they see a boy. But she knows she's not a boy. She knows she's a girl.
George thinks she'll have to keep this a secret forever. Then her (4th grade) teacher announces their class play is going to be "Charlotte's Web." George really, really, REALLY wants to play Charlotte. But the teacher says she can't even try out for the part …because she's a boy.
With the help of her best friend, Kelly, George comes up with a plan. Not just so she can be Charlotte – but so everyone can know who she is, once and for all.
---
Mini Review
After reading it in 2015, George stayed in my mind for a long time as it was a truly incredible and entertaining read that made me feel very emotional. In 2016 in a round up on Big Book Little Book I said, "I absolutely adored this book from start to finish. A true coming of age story about a boy who wants to dress like a girl. It is a lovely cute story that everyone should read." And to this day, this book is still one of my utmost favourite LGBT books. George is an adorable but powerful and intensely moving read that looks on a very serious issue in a way that allows you to truly empathize with the main character. For a MG that is very good at being a YA Crossover, this book is just such an important novel that I honestly want every child and teenager to read. It's one of those books that is easy to read, easy to fall in love but incredibly difficult to forget.
So if you haven't read this book yet, why not enter the giveaway to make sure you don't miss out on this absolute gem of a read!
---
Giveaway
To win one of three copies of George by Alex Gino, all you need to do is head on over to Twitter and RT the following tweet:
(Click the image to go to the tweet in twitter)
The giveaway ends on 8th July and winners will be notified on twitter.
Winners will have 72 hours to confirm acceptance of their prize.
Winners MUST live in the UK or IRL.
Good luck!
---
What books will you #ReadWithPride?
Posted on 13 April, 2015 by Faye - No Comments
Hi Guys!
Today I'm here to show you a little bit more of George from George Lester Writes as I have an interview with him!
---
Tell us a little something about yourself!
an aspiring author, former bookseller, infrequent youtuber and graduate from Kingston University studying Drama and Creative Writing (first class, if you must know!)
How long have you had your blog?
I've had several blogs but this is the first time I've sort of taken it a bit more seriously (despite the lack of posts) and really tried to own what I post. I've had this site for just over a year.
Do you enjoy running your blog?
Sometimes. Most of the time. I think I just struggle to post often and then I worry I'm not interesting enough and
When you started, did you ever think it would end up the way it has?
No. I thought I would be better at it! Ha!
Is there an interesting background story to the name of your blog?
It was originally going to be called TheGeorgeLester.com or .co.uk or whatever to keep with my twitter name and my instagram name. But then I decided I wanted it to be more of an author website sort of thing, I guess. I wanted it to be the place for George Lester the writer. Hence, GeorgeLesterWrites! :)
It's not an interesting background story, but it is a very much overthought and pretentious one! :D
As we've got this far without mentioning it, why not tell us a little something about your blog? What you post, how it runs, who you cater to, etc
Ah yes, so I post book reviews for the most part but more recently there have been more guest posts and blog tours featuring on my blog. And whenever something kicks off in the media/someone says something I very much don't like, I will post an opinion piece on it. There are also occasional posts on writing…but they are very occasional. I think in future, I hope to post more things about writing/my writing.
Do you participate or host blog memes? If you do, which is your favourite?
I don't, but I really want to! The Waiting On Wednesday and the Top 5/Top 10 posts people do! I just don't know how to get involved because I'm rubbish at life!
What about blog tours? Have you ever or do you ever participate in them?
The first blog tour I was ever a part of actually happened this year and was for The Art of Being Normal! It was brilliant and I've agreed to take part in multiple ones since, four of which are happening in April! Whoop!
What is the best book you read in 2014?
Hands down, The Art of Being Normal by Lisa Williamson. A positively stunning read! AH!
What about so far in 2015?
2015 has been a mixed bag to me so far. Favourites (as of 27/03/15) include REMIX (pronounced ReeeeeeeeeeeeeMIX) by Non Pratt, Hold Me Closer by David Levithan, The Five Stages of Andrew Brawley by Simon David Hutchinson, and Simon VS The Homo Sapiens Agenda by Becky Albertalli. All contemporary which is odd…
Has there ever been a book that haven't been able to finish? If so, what was it? And why couldn't you finish?
There have been many, I'm afraid. Currently though, I'm stuck on Red Rising by Pierce Brown. It\s not that it isn't a good book because the writing is brilliant but it is just quite slow for me. And I'm gutted because I really want to love it. I'm going to power through it because this is exactly how I felt about Throne Of Glass by Sarah J. Maas and I ended up LOVING that!
What is your favourite book genre?
Well, if the above is anything to go by then I guess it would be contemporary, but I love quite a large range. It really depends what kind of mood I'm in. At the moment, I think I'm in the mood for something pretty action packed which is pretty good with the book I'm reading at the moment! *Top Secret though innit!*
Quick Fire Round
ebook or hardcopy?
Hardcopy, ALWAYS!
YA or Adult?
YA
Vampires or Werewolves?
Vampies! (Someone needs to do proper vampires again!)
Chocolate or Vanilla?
Chocolate
Harry Potter or Twilight?
Harry Potter, til the end…
Four or Peeta?
Peeta
Series or Single?
Series…but I need to really love it if I'm going to commit!
Blogger or WordPress?
Wordpress
And finally, is there anything else you would like to say about you or your blog?
I'm going to go into more detail about this in a blogpost but over the summer '14 I signed with a literary agent, Sam Copeland (RCW), and have edited my first book with him. So I guess that sort of also makes me a writer or YA books…unpublished as yet…but, like I said, more on this in the blogpost! :)
Thanks so much for having me on here Faye, it's an total privilege to be a part of your blog!
---
You can find George on his blog here. Or you can follow him on twitter here.
Posted on 13 April, 2015 by Faye - No Comments
Posted on 31 March, 2015 by Faye - No Comments
blogger spotlight!
Every month I choose a new Blogger to spotlight on my blog. This blogger is usually someone who I have come to know through blogging, someone who I admire and whose blog should be getting a lot more traffic! Being a part of this means that the blogger gets their website "stickied" to the top of my blog *points to left-hand corner*, they get an interview and a few other things here and there throughout the month! It's a way for me to share my love of them to you, and for you to find a new and amazing blog!
Got that? Good.
So, this month's Blogger Spotlight is George from George Lester Writes!
Why is George Chosen?
I met George almost a year ago now at London Book Fair and I'm really glad that I did. George is enthusiastic and has an overwhelming passion for books. He's super friendly, super fun, and just an over-all brilliant guy. He's someone that I very much enjoy seeing at events and I have enjoyed getting to know him better over the past year – and getting to celebrate victories with him too like getting an agent! So it seemed natural to choose George as my Blogger Spotlight because he's someone that I think everyone should know.
And if his personality isn't enough, he both blogs and booktubes. He's both a writer and an editorial assistant for picture books and his passion and enthusiasm for books is just contagious. He writes incredibly well – both fiction stories and blog posts and his videos are great fun to watch as he just doesn't take himself seriously – in the best kind of way. So if you're looking for someone who will make you smile, remind you why you love books and will just be a great person to know, you should definitely find out more about George!
To see what I mean, go follow him now!
Posted on 31 March, 2015 by Faye - No Comments