Posted on 17 March, 2017 by Faye - No Comments
Recently Released Diverse Books I Want to Read
So the past few months have been fairly busy for me. At the beginning of the year I was ill and it put me behind on a lot of things and I have since been playing a very vicarious game of catch up. What all of this means is that my reading time has almost completely disappeared and I've been struggling to finish books. Thus, I have missed out on some amazing releases so in this post and two other posts coming to you in the next few days, I wanted to share with you some books I really want to read so that you can find out about them too!
For this I have come up with four categories, YA Mental Health Releases, YA LGBTQIA Releases, General YA Releases and Adult Books.
---
YA Mental Health Releases
A Quiet Kind of Thunder by Sara Barnard
I've had this one on my reading pile for far too long and I've been wanting to read it for even longer than that as well. I loved Sara's first book, Beautiful Broken Things and I have heard some good things about this one so I am itching to dig into it! If you haven't heard of it before, do click on the link to see what I mean.
Damage by Eve Ainsworth
This is yet another book that I was drawn to as soon as I heard about it. It sounds incredible. Dark, emotional, powerful and full of strength. What more could one possibly want? I will definitely be diving into this one as soon as I can!
Goodbye Days by Jeff Zentner
I've actually only just heard about this book but now that I know about it, I really want to read it. While it doesn't officially deal with mental health on the surface, it does sound like it brings up anxiety and panic attacks and I'm definitely intrigued to see how this is dealt with in the book.
History is All You Left Me by Adam Silvera
I will put my hands up here and say that I did not read Adam's first book but this book sounds just the right kind of book for me. Aside from a brilliant blurb that really hooked me, this also has a protagonist with OCD written by an author who suffers from OCD. So I definitely want to see how it all gets handled!
Optimists Die First by Susie Nelson
Yes another book that I've only just heard about but that doesn't make me want to read it any less. It sounds like such a fascinating read and I'd be really curious to see how it all comes together in the end!
---
YA LGBTQIA Releasea
Our Own Private Universe by Robin Talley
Robin Talley is one of those authors that has a knack for writing about sensitive but powerful topics and this is no different in her newest release. I have been itching to read this one and it has come highly recommended by one of my friends too so I cannot wait to see what it is all about.
Birdy Flynn by Helen Donohoe
This is a title that I am slightly cheating with (*shhh*). It's not out until May but it is one that I have been dying to read for so long that I feel like it's already out! I've been meaning to read it for ages. I will get to it eventually because I think it's going to be one incredible read!
The Inexplicable Logic of my Life by Benjamin Alire Saenz
I fell hard for Benjamin's first book, Aristotle and Dante Discover the Secrets of the Universe and so the minute I found out he was writing another book, I knew that I was going to have to read it. This, of course, has not happened yet but it will at some point. It will.
The Upside of Unrequited by Becky Albertalli
Admittedly I did not finish Becky's first book – or I haven't yet – but I am really excited by the premise of her second book! I have already heard good things too so my hands and eyes are itching to sink into her words. It'll be good to see what the story is all about and how Becky deals with it.
We Are Okay by Nina LaCour
Lastly, but certainly not least, we have We Are Okay. I have never actually read anything by Nina – eeek – but the blurb of this one just sounds amazing. And, once again, I have heard wonderful things about the book from fellow readers which all has me waiting impatiently to find the time to give this book a whirl!
---
And that's all for today! Did you read any books recently released with these themes that I might have missed?
Posted on 17 March, 2017 by Faye - No Comments
Posted on 14 January, 2017 by Faye - 1 Comment
A Day Without Speaking
Hi All!
I'm here today to share with you all how difficult I would find it to spend a day without speaking. The reason I'm doing this is to help spread the light on Selective Mutism which is a severe anxiety disorder and is also what Steffi in A Quiet Kind of Thunder suffers from.
So before I begin, here's some more information on the book!
---
About the Book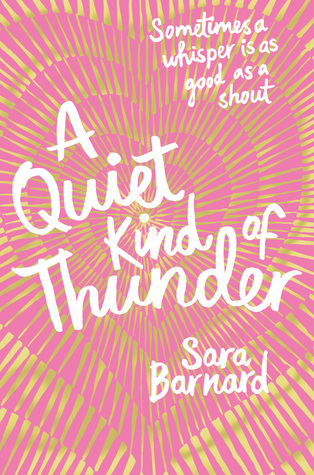 Steffi doesn't talk, but she has so much to say.
Rhys can't hear, but he can listen.
Their love isn't a lightning strike, it's the rumbling roll of thunder.
Steffi has been a selective mute for most of her life – she's been silent for so long that she feels completely invisible. But Rhys, the new boy at school, sees her. He's deaf, and her knowledge of basic sign language means that she's assigned to look after him. To Rhys, it doesn't matter that Steffi doesn't talk, and as they find ways to communicate, Steffi finds that she does have a voice, and that she's falling in love with the one person who makes her feel brave enough to use it.
From the bestselling author of Beautiful Broken Things comes a love story about the times when a whisper is as good as a shout.
Goodreads. Amazon UK. Waterstones.
---
A Day Without Speaking
When I first thought about how difficult it would be to not be able to speak, I thought about the amount of times a day people speak to you and expect an answer back. Strangers that have never met you who you may accidentally bump into in the street. People who ask you for directions or the time or for your help with something. This would be tricky – and something that I also think would be also be incredibly hard for a deaf person too – but then I dived a little further and realised that I talk… a lot. I used to think of myself as a quiet girl. A girl who kept to herself and spoke only when she felt she needed to and in part, I am still that person but I also talk a lot more than I even knew.
The second thing to come from this thought process was the thought that I would not be able to work in the job I am currently doing. A large part of my job is talking to customers. It would be impossible to do my job if I was incapable of talking – and of course, how would I have interviewed for the job in the first place? On an average day I talk to maybe 100 people. Sometimes all I say is hello. Sometimes I just have a quick interaction while I sign them up to the library and other times I have to have a more in depth conversation so that I can help the customer in the best way possible. Then there is all of the essential talking that happens between myself, my colleagues and my superiors. Words of discussion, of explanations, of tasks that have or need to be completed. Without this communication, it would be a disaster. How would my colleagues communicate to customers the reason there are less books is because I am creating a nicer area for them if I hadn't told them this first?
So without a doubt, my job would not be there. So what would I do for a living instead? I cannot even fathom a job where there is no talking at all. I'm sure that there is probably something. Maybe something in crafts or art, but even then you have to have the talent for it and how would you sell it without words?
Then I thought about eating out. I do this more often than I probably should. But eating out means ordering. Ordering is very difficult without words. I presume in a restaurant you might be able to point at the dish on the menu but what if you needed something changing? Or what if you're in a coffee shop or somewhere like McDonalds or Subway? At least if you go food shopping, these days you can get by without words because in most larger stores you can either self-scan your items or do a scan and shop but if you need help or a staff member asks you something, how would you go about answering them?
There is so much about my day to day life that requires speech or words of some kind that the idea of being physically incapable of doing it, scares me. I've always been petrified of losing my sight or my hearing but never really thought about speech. Until now. And it is now something that I am grateful for and will treasure from now on.
As someone who suffers from anxiety, I can understand that fear. I can understand the worry that must go through the mind when it comes to being unable to speak. I know that when I suffer from panic attacks, I can barely talk. I need to get myself to a safe space but telling someone that isn't possible. I'm usually just about dealing from not being able to breathe. And I also know that the fear of certain situations has stopped me from going places or trying new things. So, I can see how it is possible to deal with this fear by not speaking.
And knowing how tough this would make life, I can only hope that the people they love understands that and accepts them as they are. Because they're going to need every last ounce of support they can get.
---
You can find out more about selective mutism on the NHS website: here and on a few Selective Mutism specialist websites, such as this one and this one, and also on this anxiety websire, here.
As well as A Quiet Kind of Thunder, I would also highly recommend, What I Couldn't Say by Faye Bird as another UKYA book to read which features a main protagonist with selective mutism.
---
How Would It Affect Your Day?
Posted on 16 May, 2016 by Faye - 1 Comment
Mental Health May
You may or may not be aware but May is Mental Health Awareness month so I wanted to do a little something on the blog to share this awareness because Mental Health is very close to my heart and I think that books are a fantastic way of sharing mental health. It can show what Mental Health is all about and battle some of the common misconceptions such as;
a) Mental Health is an illness, not an excuse.
b) Mental Health does have physical attributes
c) There are many ways to get help if you have Mental Health conditions
d) Mental Health problems are not the only aspect of your personality
e) Anyone can be affected
f) Having a Mental Health condition does not make you weak
g) People with Mental Health illnesses are not alone
Books can also show how many different Mental Health conditions they are, will help to make people more aware of it and may also help people reach out for professional help if they need it. It can also show how many people suffer with Mental Health silently.
And with all of that in mind, here is a small list of some of the books I've read that cover Mental Health that I would highly recommend.
---
What books would you add to this list?