Blog Tour; Ascension of the Whyte by Karen Wrighton
11 August, 2014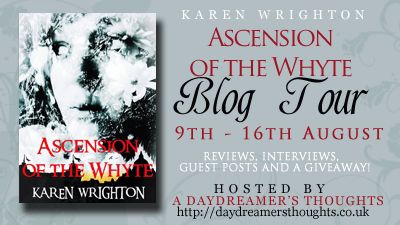 Hey Guys!
Today I am one of the stops on the Ascension of the Whyte blog tour and I am here to share with you my review of the book!
---
Author: Karen Wrighton
Publisher: CreateSpace
Published: 9th June 2014
Pages: 326
Format: Ebook
Source:: Complimentary Copy from Author
Add It: Goodreads, Amazon UK, The Book Depository
Summary:

Sara Carson did not believe in life after death, Heaven, Hell or even reincarnation. However, what she didn't know was that some of us are special. For some of us, death is just the beginning of our next great adventure. Sara Carson was one of those special people, and her most incredible journey did not begin, until the day she died.
A magical début novel that will leave you breathless.
---
What If
As soon as I heard that this book was a mix between Harry Potter and LOTR, I was instantly intrigued and wanted to know more. I love fantasy books, especially ones that are full of imagination and so I was looking forward to reading this book and seeing if it was as good as it sounds. Fortunately, upon reading this, I was instantly sucked into the story and the world it was set in. This book is definitely full of imagination, and is set in a very curious world. I, for one, cannot wait to read more in this series.
Life Doesn't
One of the most important things about fantasy books is the world building. As the story is set in a new place, the reader has to be able to imagine this world and all the rules that the characters in the book have to live by. Karen Wrighton has done a great job at not only creating a fascinating world, but at doing it well. Through characters that are learning the new envrioment as well, this book eases you into a new world that is exciting and fresh. Also important is a compelling story which Karen has delivered well. This book is intriguing and full of action and mystery that really make you want to turn the page, over and over again. While it was a little slow and hard to grasp at first, it definitely makes up for that by the end!
End When
Rose is an interesting character who really makes this story enjoyable. Rose is strong and powerful without being truly aare of it which makes her a very likeable character. She's also a great leader and is good at rallying people together. I really enjoyed reading her. I also enjoyed the other characters in her team. They all had very distinct personalities and it all worked really well together. The only issue I had was that it was hard to remember who was who at the start of the story as you're introduced to a lot of characters at once. Fortunately, however, the story quickly focusses on less characrers, making it easy to get to know who everyone is, and all of their personalities.
We Die
While this book did have a few flaws, what helped to look past them was the writing style. Karen describes the world really well, helping to paint a very vivid image in the mind. Add to that, fast-pacing, exciting incidents, an aroma of mystery, and it should be easy to see why I really liked reading this story! Karen, as a debut author, has done a brilliant job with this book. It is a wonderful start to what looks to be a very intense series. I know that I am definitely invested enough in the story and the writing to want to know where the series will take us next!
But Starts…
All in all, this book will take you into a new, imaginative world and on a journey that will force you to continuously hold your breath. It is full of adventure, magic, and excitement. So, if you're a fan of fantasy books, such as Harry Potter or LOTR, then I definitely think you should give this book a try! I really enjoyed reading it, I loved the fantasy elements, the intriguing story and really, I just cannot wait to continue with this series to find out what will happen next! I would well and truly recommend this book to others.
** I received this copy from the author in exchange for an honest review. I was not compensated nor was I required to write a positive review. **
---
Tour Wide Giveaway
Part of the tour is also to include a giveaway!
You could win;

– Author signed paperback copy of Ascension of the Whyte
– Themed metal bookmarks
– Postcards with graphics of the book cover and a colour map of the Afterlands (signed by author if requested)
– Original hand-made Adder stone pendant like the one described in the book.
---