Book Review; Christmas at Lilac Cottage by Holly Martin
12 January, 2016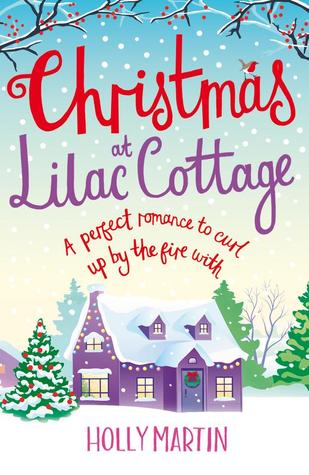 Title: Christmas at Lilac Cottage (White Cliff Bay #1)
Author: Holly Martin
Publisher: Bookouture
Published: September 25th 2015
Pages: 350
Format: Ebook
Source:: Netgalley Copy
Add It: Goodreads, Amazon UK, The Book Depository
Summary:

Welcome to the charming seaside town of White Cliff Bay, where Christmas is magical and love is in the air…
Penny Meadows loves her home – a cosy cottage decorated with pretty twinkling fairy lights and stunning views over the town of White Cliff Bay. She also loves her job as an ice-carver, creating breathtaking sculptures. Yet her personal life seems frozen.
When Henry and daughter Daisy arrive at the cottage to rent the annex, Penny is determined to make them feel welcome. But while Daisy is friendly, Henry seems guarded.
As Penny gets to know Henry, she realises there is more to him than meets the eye. And the connection between them is too strong to ignore…
While the spirit of the season sprinkles its magic over the seaside town and preparations for the ice sculpting competition and Christmas eve ball are in full swing, can Penny melt the ice and allow love in her heart? And will this finally be the perfect Christmas she's been dreaming of?
Like a creamy hot chocolate with marshmallows, you won't want to put this deliciously heartwarming novel down.
---
Finding Love
There's something so magical about a good Christmas book. A good Christmas book makes you feel warm inside. It makes you feel as though you're sitting in front of a warm fire and covered with a blanket. It brings with it a kind of peace and comfortable feeling that you don't get every single day. It feels you with hope, love, and a slight faith in humanity. Good Christmas books aren't hard to find. There are writers out there who manage the task well. But it is always a worry when starting a Christmas book that this one won't live up to my, quite honestly, insane expectations. But fortunately, Christmas at Lilac Cottage was a good Christmas book.
Is Often
Penny lives alone on top of a hill and is starting to feel lonely. All her friends are at that stage in their lives where they're getting married or having children and she is nowhere near there yet. So she decides to rent out the annex connected to her cottage. Little does she know that this one decision will change her life completely. I loved the plot of this book. I thought it was well thought out and interesting and I just loved how it all ended. While I did have a small issue because there was a majorly quick romance plot, very love at first sight-esque, I feel that the rest of the plot made up for it. Because by the end of it, I just wanted it all to work out for them, no matter how quickly it had all come together! Naturally, there were some very obvious plotlines that happened in this book and a regular romantic story arc but I feel that Holly added enough individuality to it that it didn't matter one bit.
A Wonderfully
One of the things I found so brilliant about this book was the characters and how easily I connected with them. I felt so deeply for Penny and the hand that life had handed to her but I also loved her passion, kindness and flair. She was a wonderful character that I loved reading about which made it all the easier to love this book. My second favourite character was definitely Daisy. Daisy was fun, loud and passionate. She was also shy, reserved and emotional. She was an incredible character that I just loved reading about. I would actually love to read more about her life now that the book is over! I did also enjoy reading about Henry. He was protective, a gentleman and talented too. He was also a little clumsy and quick to anger but he was also just kind and caring. While he wasn't my favourite, I thought he was the perfect fit for this story.
Unexpected Thing
I very much enjoyed reading this book. It had a little bit of everything which I thought was very clever and made it that much more interesting to read. Instead of just being a straightforward romance book, this book was also emotional and addictive. There were even times where I was literally on the end of my seat while reading this. I loved how Holly managed all of this and how I just became so connected to the book and the characters. I am certainly glad to have read this and cannot wait to read the next book in this series. If you're looking for a book that is full of flavour and will really tug at your heartstrings before eventually making you feel warm and gooey, then you should definitely read this book.
** I received this copy from the publisher in exchange for an honest review. I was not compensated nor was I required to write a positive review. **