Friday's Favourite Film Release #2
4 November, 2011
It's Friday! And that means it's time for Friday's Favourite Film Release! For those unfamiliar with this, it basically means that I will describe each of the films that have been released this week and then I will be picking my favourite, which literally means the one that I cannot wait to watch!
So, the releases this week were;
In Time (Release Date: 1/11/2011)
Justin Timberlake stars as Will Salas in futuristic thriller 'In Time', a dark vision of a world where over-25s are out of time. Only one thing can extend your life; money. Unfortunately, Will doesn't have any and is forced to do whatever he can to stay alive. When he's falsely accused of murder and forced to run from a corrupt police force, 'In Time' tracks this fugitive hero as he attempts to both clear his name and bring the brutal system crashing down. (QUOTED FROM
WWW.ODEON.CO.UK
)
Tower Heist (Release Date: 4/11/2011)
The cream of the Hollywood comedy crop join forces in 'Tower Heist', a tale of average Joes extracting revenge on a wealthy businessman whose con scheme has left them without pensions, whilst he evades justice. They plan their 'Tower Heist' – an audacious robbery on the billionaire criminal's penthouse to get back what's rightfully theirs. Conveniently for the incompetent burglars, his heavily-guarded luxury apartment block is also where they work, which should makes things a lot easier…but actually opens the way for comic capers of towering proportions. (QUOTED FROM
WWW.ODEON.CO.UK
)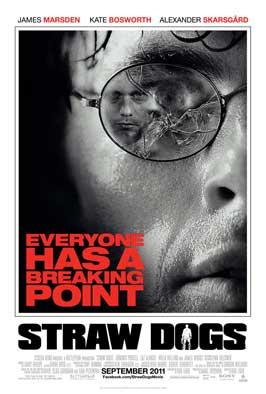 Straw Dogs (Release Date: 4/11/2011)
Psychological thriller 'Straw Dogs' relocates the 1971 classic to the deep South of the USA, where L.A. screenwriter David Sumner and his wife Amy are preparing the family home for sale following her father's death. While tensions build between them, old scars reopen and past conflicts return to their lives, along with Amy's ex-boyfriend Charlie. The two interlopers in the close-knit community then fall victim to an escalating and terrifying campaign of intimidation.
'Straw Dogs' is the latest screen offering from critic-turned-director Rod Lurie. (QUOTED FROM
WWW.ODEON.CO.UK
)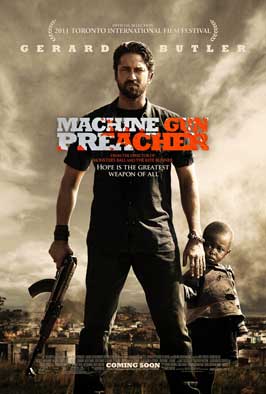 Machine Gun Preacher (Release Date: 4/11/2011)
Machine Gun Preacher' is the incredible true story of Sam Childers, a former drug-dealing criminal who rescued thousands of orphans from enslavement in war-torn East Africa.
When reformed gang member Childers travels to East Africa to help repair homes destroyed by civil war, he witnesses the horrors faced by the region's children and finds a new use for his old skills; leading armed missions deep into enemy territory to free kidnapped children.
A truly inspirational tale, 'Machine Gun Preacher' follows a man dedicated to his new mission in life. (QUOTED FROM
WWW.ODEON.CO.UK
)
 ———-
THE FAVOURITE: Machine Gun Preacher
This film is not only directed by one of my all time favourite director's (Marc Forster) but it also has Gerard Butler in who has always been an amazing actor in my personal opinion and on these two selling points alone, this film is definetely a must-see for me. Of course, the fact that the story looks like it could be fairly decent and entertaining does sway my choice as well… but only slightly.
But what about you? What is your favourite film release this week? Or, if you're not from the UK, have you seen any of these and actually liked or hated? Let me know!