Letterbox Love #8
23 June, 2012
Letterbox Love
is a new meme that was created by Kristy, Laura, Carly, Lynsey, Emma and Leanne and is being hosted on Lynsey's blog,
here
.
The logo on mine is not the actual one. I made this myself before I realised a graphic had been made already but I love mine so I'm keeping it.
I've had another fairly busy week in terms of books this week – gotta keep that TBR pile growing, don't we? I'm really looking forward to all of my new reads this week and kind of wish I had super human powers to read through books faster than I do now! Haha.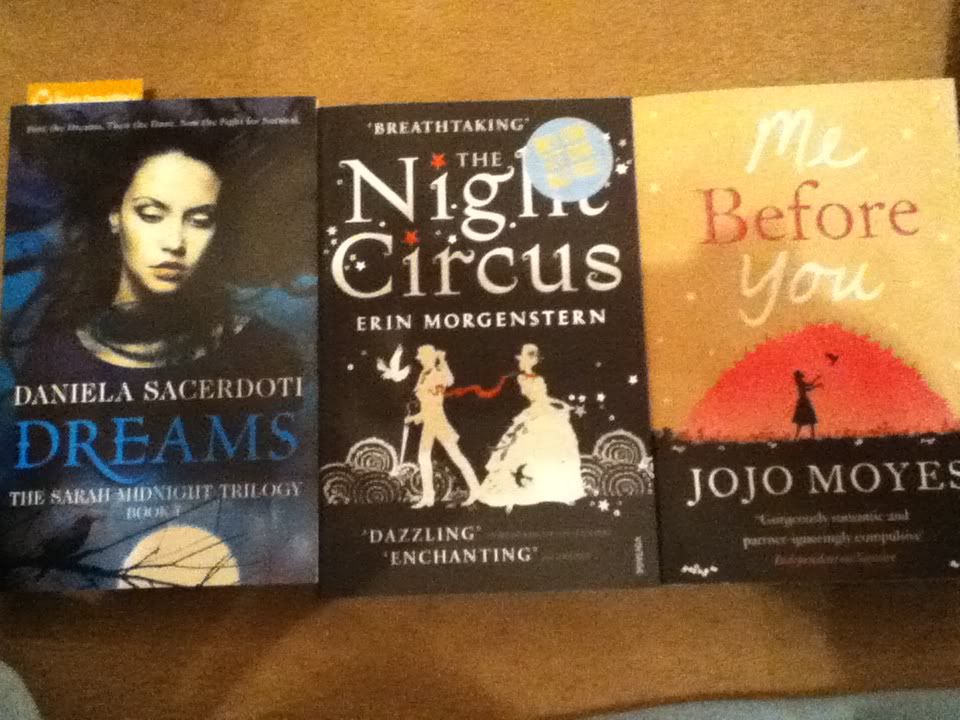 Dreams by Daniela Sacerdoti; I am going to be truthful here, I hadn't heard of this one until very recently. It was a part of The Book Depository's 24 hour sale and it appeared at a time when I was on the computer and before I know it I had clicked the buy button. It was really cheap and it sounds amazing. If you've read this one, what did you think?
The Night Circus by Erin Morgensern; This one has been on my radar for a while so when I went into Waterstones and it was one a buy one, get one half price deal, I just couldn't resist. I am so looking forward to reading this because I have heard such great things about it!
Me Before You by JoJo Moyles; Again, this is a new title that was brought to my attention recently. The lovely Lucy from ChooseYA mentioned it to me in passing last Saturday so when I saw it in the same offer as The Night Circus, I simply had to buy it, didn't I? It looks really interesting and I can't wait to dive into it!
Boys Don't Cry by Malorie Blackman; If you do not know yet, Malorie Blackman is one of my all-time favourite authors. She's one of the authors who really got me into reading (along with J. K. Rowling, Phillip Pullman and Jacqueline Wilson) and I have always admired her writing. Recently I realised I haven't read a fair few of her titles and this just happens to be one of them. With the sequel on its way, I figured I should give it a try! 
On the Island by Tracey Garvis-Graves; This one sounds so amazing. I already feel heart-broken from the summary and I can just feel that this book is going to grab me unexpectedly. I am looking forward to diving into this one so much! Thank you so much to PenguinUK for sending me this book for review!
Fallen, Torment and Passion by Lauren Kate; I am one of the very few bloggers who hasn't read the Fallen series yet! I got Fallen out of the library a while back but never got around to reading it before I had to return it. Thankfully Lauren from RHCP came to the rescue and sent me the first three books in this series for review and I am definitely looking forward to reading this series – possibly even back to back!
That's all I got this week!
feel free to leave links to other similar memes*