Letterbox Love #9
30 June, 2012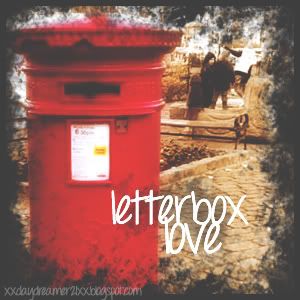 Letterbox Love is a new meme that was created by Kristy, Laura, Carly, Lynsey, Emma and Leanne and is being hosted on Lynsey's blog, here.
The logo on mine is not the actual one. I made this myself before I realised a graphic had been made already but I love mine so I'm keeping it.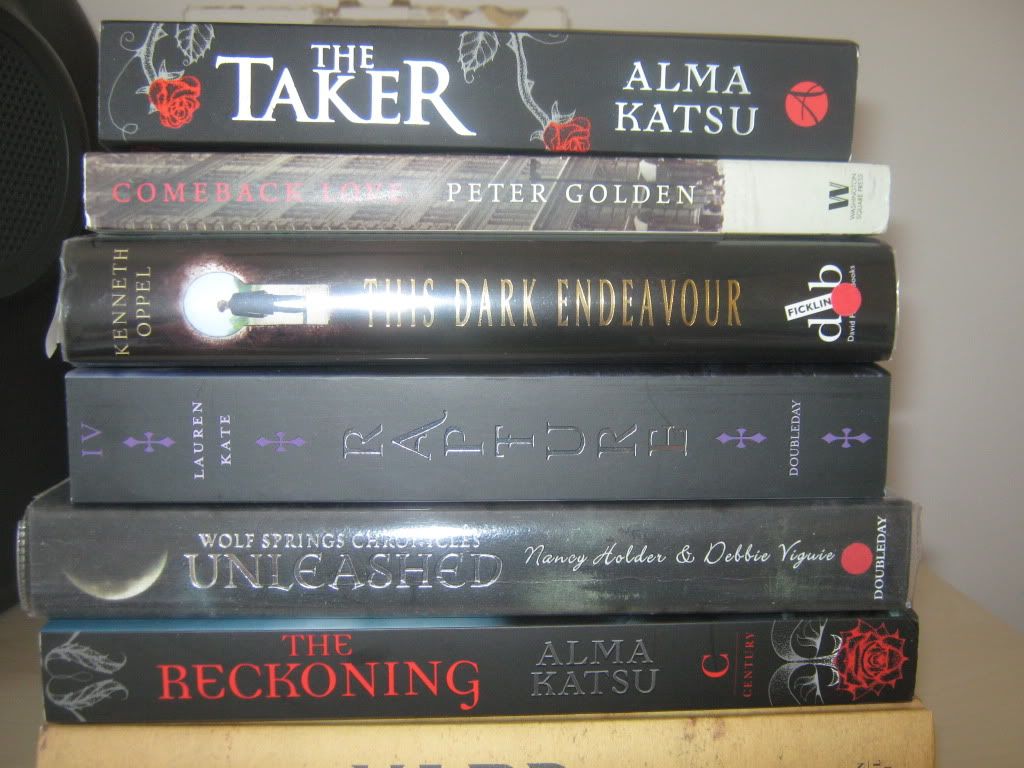 This week was supposed to be a slow week, but it ended up not being that way at all. I hope that it slows down next week as I'm really starting to fall behind on my reading! But I really don't have that much of a problem with it, haha. The one thing I can say is that I did not buy any new books this week! Yay!
for loan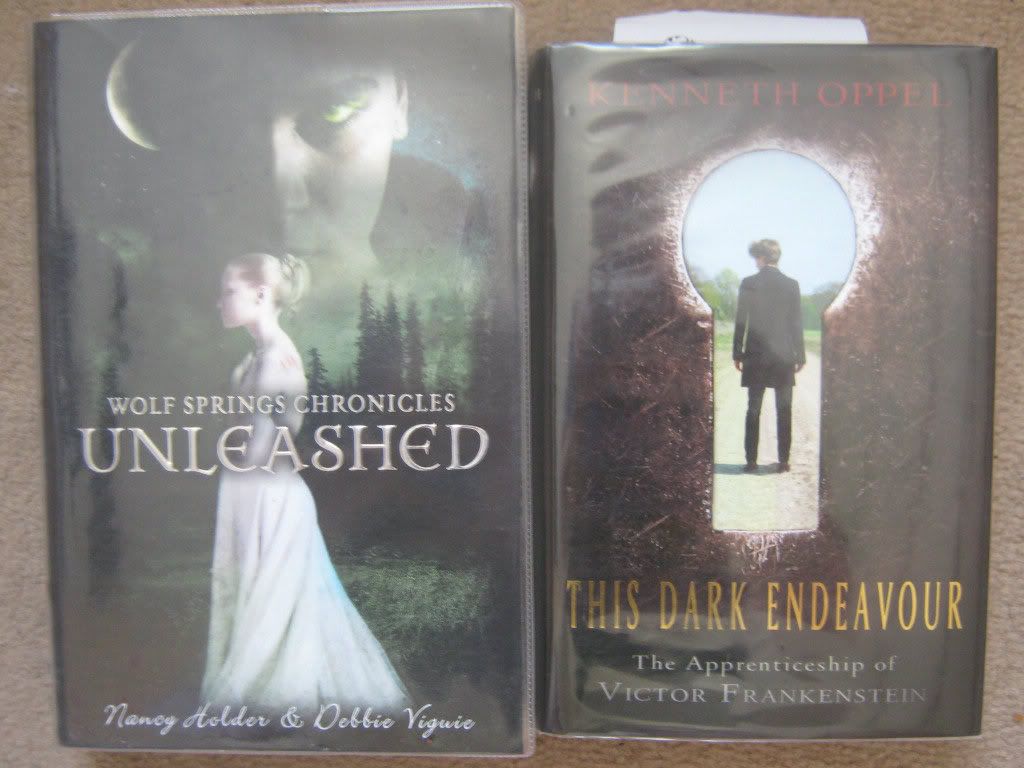 Unleashed by Nancy Holder and Debbie Viguie; I heard about this book from the RHCP Blogger Brunch and I got really intrigued about it so I instantly requested it from the library. This week I got told it was ready to collect so I went and grabbed it. It looks so pretty and the story sounds amazing. I can't wait to read it and with the second book soon to be released, I hope I love it!
This Dark Endeavour by Kenneth Oppel; I also heard about this book at the RHCP Blogger Brunch and I am so glad I did as it sounds amazing! I honestly can't believe it wasn't known to me before and I'm really looking forward to getting stuck into this one! Hopefully it'll be worth the wait! This one also has a sequel to be released soon so all the more to read!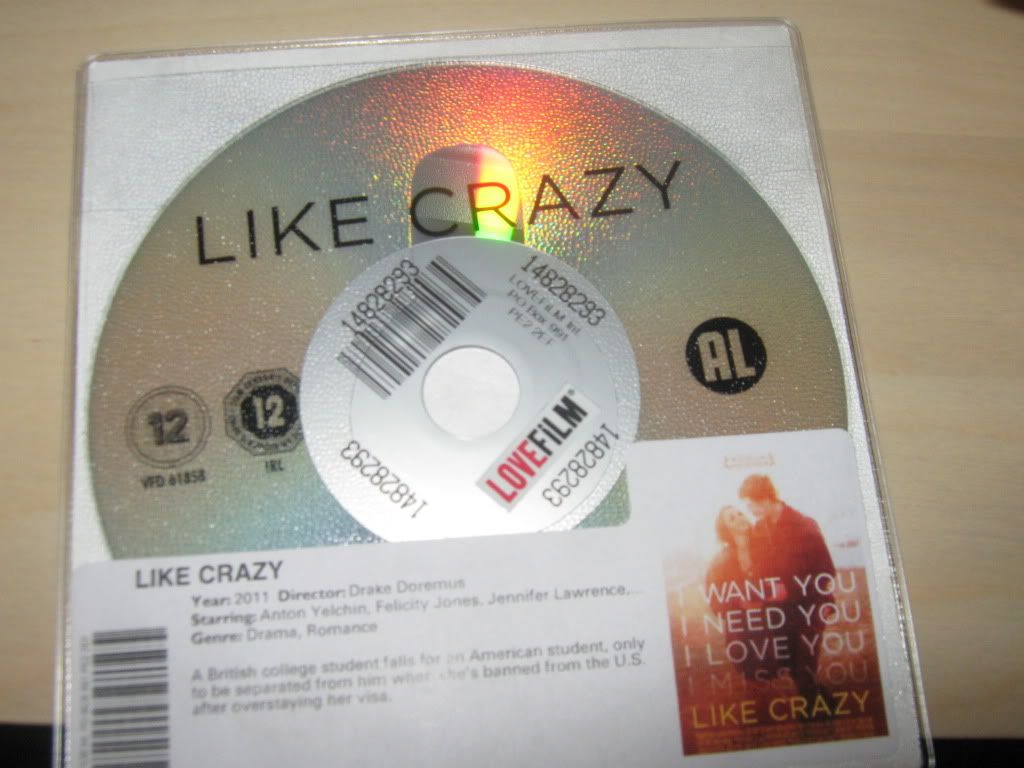 Like Crazy (2012); Ever since I saw the trailer for this one I really wanted to watch it but missed it when it was in the cinema so when I saw it on LoveFilm, I instantly added it to my rental list and was so happy when it finally got sent my way. I have now watched this and was actually a little disappointed with it, which is upsetting but just one of those things unfortunately.
won

Shift by M. R. Merrick; Oh, I have seen this one around for ages and kept meaning to buy it but never got around to it so I was so happy when I won it this week! Thank you so much to M. R. Merrick and Valerie from StuckInBooks! I am so looking forward to reading this one!
for review

The Yard by Alex Grecian; I am so intrigued by this one! It looks so mysterious and interesting and I love things that are related to Jack the Ripper! It was a bit longer than I was expecting but I will not let that put me off! Besides, look at the gorgeous vintage cover! (it feels amazing, just fyi). Thank you to Penguin for this copy!
The Taker and The Reckoning by Alma Katsu; This is a new series for me and I just loved the sound of it and really wanted to give it a go! I am really looking forward to jumping into this one! Thank you so much to Random House for these two!
Rapture by Lauren Kate; Last week the first three books in this series were sent to me and this week Rapture arrived! I'm still really looking forward to this series and am looking forward to reading them one after the other now! I think it may be a July task for me. Can I read them all in a week? Thank you to Random House for this read!
Afterlife by Eric Edstrom; I cannot wait to read this one! I loved Undermountain (review) and have been eagerly awaiting to read the sequel and so when Eric e-mailed me asking if I wanted to read it, how could I deny him? I am so looking forward to this, I just can't wait to dive back into that world and Eric's writing style! Thank you so much for the copy Eric!
that's all I got this week,
what did you get? :)