LGBT April; Top Five Read, Top Five To-Read!
26 April, 2014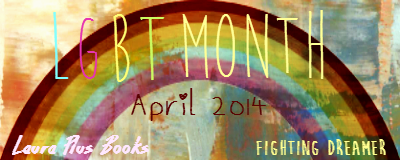 Hey all!
So today as part of LGBT April I have decided to tell you all about my top five LGBT reads (Though I'm sure I've forgotten a whole PILE of brilliant books) and the top five LGBT books on my TBR pile!
Top Five Read
Secret by Brigid Kemmerer; There are not enough words in the dictionary for the amount of love I have for this book. One of the best things that Bridget can do is make you feel for every single character she writes about and it truly had an impact in this book. My heart wept for Nick and I just admired his story so much! I think it is just a stunning story and you really need to read it if you want a truly inspiring coming-of-age story with a paranormal backdrop!
Boy's Don't Cry by Malorie Blackman; If you've been following this blog for any length of time then you'll know how much I love Malorie Blackman and this book is one of the reasons why. While the LGBT themes in this book aren't right at the forefront, they are amazing and brilliant and just so well-done. I was enraptured by this story and truly found the LGBT so powerful. It just gives this book that something extra and makes it truly stand out from the crowd.
Boy Meets Boy by David Levithan; The first Levithan book that I ever read and the reason that I've been seeking out every other book written by him. A wonderful book that I really enjoyed. It does have a stereotypical feel but in the best possible way. I'd loved the world this book was set in and just truly admired all of the characters. A wonderful story that you should definitely read if you like LGBT stories!
Pantomime by Laura Lam; This is one book that I read that completely blew me away from the first page. I hadn't expected the story to turn that way but when it did, I absolutely loved it. This story is truly unique, fully compelling and one that I would just highly recommend. I am definitely on the lookout for more books that are like this one!
Love Letters to the Dead by Ava Dellaira; Having only just read this a month ago, it is one that is still quite high in my love list! I really connected with the characters in this story, thought the writing was really compelling and just really loved everything about this book. It is a powerful coming-of-age story for all of the characters involved and just has a very real and raw feel to the book. If that sounds like something you like, then you really should get your hands on this book!
Top Five To-Read
Will Grayson, Will Grayson by David Levithan and John Green; I've heard so many great things about this one and since I love both John Green and David Levithan it seems like a no-brainer to me!
Cruel Summer by James Dawson; I have been wanting to read this one since it came out last year! I really enjoyed James' first novel and have heard that this one is EVEN BETTER. So really I need to just get on with it, right?
Where you are and Don't Let Me Go by J. H. Trumble; Cheating slightly here because I want to read both of these books but they're by the same author so it counts, right? Anyway, I have heard such amazing things about these books from bloggers and from authors and so I really just need to read them, more than anything else!
Far From You by Tess Sharpe; I have heard a thousand AMAZING things about this book and very few bad things – which should essentially give me alarm bells because… HYPE… but instead it has just made me super excited to read this book and I really cannot wait to get my hands on this book!
Gone, Gone, Gone by Hannah Moskowitz; This is one that I've had on my wishlist for a LONG time (I swear it's been years!) and I still REALLY want to read it. It sounds fabulous and one of my fellow bloggers has recently been recc'ing it all over the place so I'm really looking forward to finally getting around to reading this amazing book!
And that's everything!
Or at least… all the tops…
meaning, the one's I thought of first…
There are still LOADS of books that I NEED to read and WANT to read, and so many more that I've READ and LOVED. But here's just ten for you!
What do you think of the ones I've read?
Which ones that I need to read would you recommend?
What other LGBT books have you read and would recommend I read?
What LGBT books are you DYING to read?