March Monthly Wrap Up
1 April, 2015
---
Monthly Highlights
Looking at my calender, I am concerned because I feel like I did very little this month and yet I was also incredibly busy so I'm just sitting here wondering WHAT I spent my time doing! I think what it boils down to is spending time with my family, getting more exercise in, being ill, going to the cinema and just work, work, work!
Bookish event wise, I did two bookish things this month!
The first was book club which was really fun, as it always is, even though I didn't get around to finishing the book!
The second was the Oxford Literary Festival where I went to see Lucy (Queen of Contemporary), Daphne (Winged Reviews), Ben (Benjaminoftomes) and Casey (Dark Readers) talk at a panel about book blogging. It was really interesting hearing about their perspectives on blogging and I loved that they all had different views. It was a great day.
And I, of course, also saw the film adaptation of Insurgent and I loved it! It was a great film and really worked well with what I remember of the book too.
Blogging has taken a back seat this month (hence my confusion on lack of things in my calender!) but my top posts this month were;
UKYA Book Blogger Award Winners
Book Review: Ways to See a Ghost by Emily Diamond
Faye's Thoughts on… Book Blogging
My reading also hasn't been great this month, I have only managed to finish seven books – but I think that's because I'm no longer taking the bus but walking and it's not so easy reading and walking at the same time!
---
Blogger Spotlight
For the month of March, I had the wonderful Charli as my Blogger Spotlight.
Check out this fabulous interview with her!
---
Favourite Book
There are not enough words in the dictionary to describe how much I loved this book. (But you can see my full and lengthy and gushing review of it tomorrow!) This book was a book that blew me away. It was quick, addictive, beautiful, emotional, heart-warming and just super lovely and hope-fulfilling. It is the kind of book that just makes you feel everything and then leaves you feeling good about life at the end of it – kind of like those brilliant family movies! It was everything I needed it to be and more. It is a truly inspiring book written by someone with exceptional talent. I don't want to gush too much or you'll probably by-pass it but if you haven't read this book, I really, really recommend you change that!
---
Books Read
Four Stars
Queen Sardine and Princess Persia by Kate Willis-Crowley; I thought the first book in this series was really cute and I feel very much the same way about this book as well. It was a quick and entertaining read, great for younger readers! (And cat-lovers!)
Trouble by Non Pratt; I should have read this book months ago! It was one that I truly enjoyed from start to finish and I cannot wait to dive into Remix next! It was a very entertaining and heart-warming story.
Nashville Mercy by M. Maitland DeLand; This book was a complete surprise to me. I'd never read anything by the author before but the synopsis caught my attention and I was glad. This book was very well written and very addictive!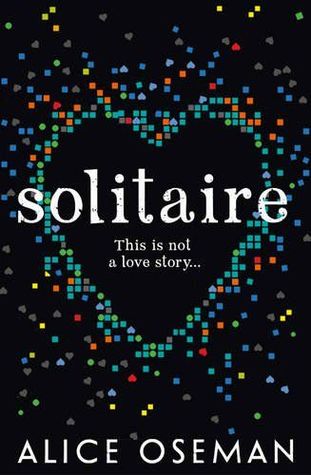 Solitaire by Alice Oseman; I loved this book so much. I loved the main characters. I loved the plot. I loved the relationships. I loved it all SO much. I had one minor issue with something that happened at the end that put me off a little but aside from that, I loved everything about this book.
Dragon Amber by C. J. Busby; The second book in this trilogy was one that I really enjoyed. It was entertaining, fun, and had a very cool plot hidden at its centre. I love all the characters in this series and cannot wait to see how it all comes together in the end!
The Three by Sarah Lotz; I knew this book was going to be good, I had no idea how much I was going to enjoy it though. It was a completely new style to me
Five Stars
Starring Kitty by Keris Stainton; For all the reasons above and many, many more. It's obvious now to see why this is my favourite book of the month, right?
---
April TBR
---
How Was Your February? Did You Read Anything Amazing? Have You Got Any Great Books You Want To Read In March?