Top Ten Tuesday; 2012 Reads
18 December, 2012
Top Ten Tuesday is an original feature/weekly meme created at

The Broke and the Bookish

. This feature was created because they are particularly fond of lists. They'd love us to share our lists with other bookish folks and would LOVE to see our top ten lists!
---
Top Ten Books I Read in 2012
These are all books that I read and would have given more than five stars if it was possible. They're the ones that reached inside me, took a hold of my heart and simply refused to let go. The ones that still go through my mind – especially when it comes to reading books that are of similar quality. They're the ones that made this year bearable <3
Speechless by Hannah Harrington
I was so blown away by this book that it literally left me speechless. I know that's incredibly corny and I should really find a better way to describe it but I was just, out of ways to describe the pure brilliance of this book, and still am.

Black Heart Blue by Louisa Reid
This book had my heart pumping as I read it. It was powerful and deep and it was so amazing that I struggled not to put this book down. I read it in one sitting and I have never looked back. It is a book that speaks volumes and I couldn't recommend enough.

Divergent by Veronica Roth
One of the first books I read this year and it has stuck with me through it all. It was so stunning, powerful and hard-hitting and it was a simply inspired read. It is one book that I am always thinking about, and Veronica Roth very quickly became an author who inspires me tenfold.
Seraphina by Rachel Hartman
I don't usually read dragon-stories, and yet I couldn't help but be intrigued by this story. I took a while to get to it but after many people telling me I had to, I was so glad I did. This story was so inspirational, powerful, and simply amazing that I really was missing out. It was strong and unique and I loved every minute of it!

Spark by Brigid Kemmerer
I will be the first one to admit that I am an elemental series fangirl. It is the most stunning series I have ever read – I'm sure of it! – I devoured both Elemental and Storm at the beginning of the year and when I read Spark, I simply fell in love all over again. This book is so absolutely amazing. Really, really.
Forgive Me, Alex by Lane Diamond
I have read a lot of crime books in my time but none have moved me as much as this one did. There was so much going on in this book, and it was just really powerful and strong. It was also vivid to the point of giving me shivers but I really understood the characters and felt for them and just… it packed a punch.

Cinder by Marissa Meyer
I cannot shout my love for this book enough. Whenever I hear that someone hasn't yet read it, I scream at them to do so immediately. This book is the best Cinderella adaptation I have ever read. It is creative, unique, and so full of things to keep a reader interested that it deserves some full love.

One Hundred Names by Cecelia Ahern
I actually only just finished this, this sunday. But I LOVED it. I love everything Cecelia Ahern writes simply on principle because she's one of my favourites but this book was truly stunning. I was captivated by the story and my heart felt so full and powerful afterwards. This book was one that really, truly, grabbed my heart and ran away with it.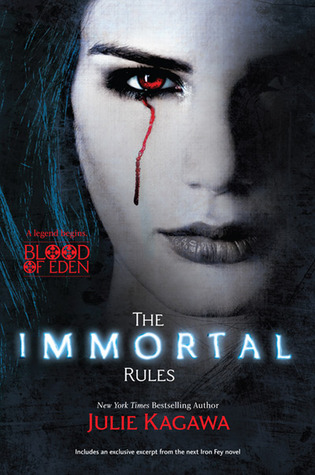 Scarlet by A. C. Gaughen
This book is truly amazing. It has a really strong heroine, it questions feminism, and is a unique, and creative, adaptation. It was a powerful read that really grabbed me and I just simply adored every minute I spent reading it. I was cautious about reading it but I really shouldn't have been!

The Immortal Rules by Julie Kagawa
I had always thought that The Iron Fey was amazing and spectacular, but then I read The Immortal Rules, and I realised that Julie Kagawa had hidden talents. This book blew me away and made the Fey series feel under par, as though Julie didn't put enough talent in them. This book was strong, powerful, and should really have come with a warning label! I loved every minute of it.
---
So there you have it! What books did you love reading this year? Any that are similar to my list?