Blog Tour: Create Your Own Spy Mission by Andrew and Chris Judge
10 April, 2016
Create Your Own Spy Mission by Andrew and Chris Judge
Hi All!
Today is my spot on the Create Your Own: Spy Mission blog tour! I'm here to show you some of the pages filled in by myself so that you can a) see my pathetic drawings and b) see how much fun this book is!
But before I humiliate myself, here's some information about this fantastic book!
---
About The Book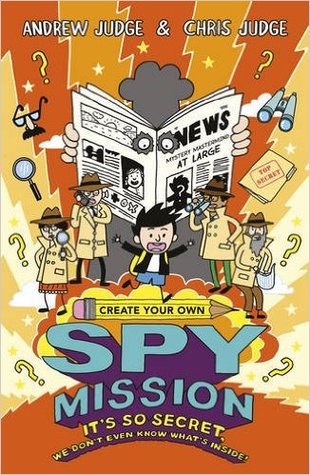 Title:
Create Your Own Spy Mission
Author:
Andrew and Chris Judge
Publisher:
Scholastic Press
Published:
April 7th 2016
Pages:
140
Format:
Paperback
Source:
: Review Copy
Add It:
Goodreads
,
Amazon UK
,
The Book Depository
Summary:

DOODLE YOUR OWN ADVENTURE!
Welcome to Doodle…where you draw the story. Help finish characters, build up the town and design a GIANT ICE CREAM POWERED robot to fight off…the SUPER villains that you doodle! Doodles get into LOTS of trouble. Watch out, it is up to you to doodle them out of it!
---
My Doodles
---
About the Authors
Chris Judge
Chris Judge is an award winning picture book author/illustrator (THE LONELY BEAST, TIN) and co-author, with comedian David O'Doherty, of DANGER IS EVERYWHERE. Chris's work continues to feature in advertising, newspapers, magazines and exhibitions in the UK and Ireland.
Andrew Judge
Andrew Judge has written and illustrated countless short stories and comics with his brother Chris, including regular features for arts and culture magazines Mongrel and Totally Dublin. Andrew lives and works as an architect in Ireland.
---
Where will your spy mission take you?