Letterbox Love #1
29 April, 2012
Hey Guys!
It's been a bit crazy this week, hasn't it? With all the issues floating around the book blogging atmosphere at the moment, participating in IMM is something that I just did not want to do. In all honesty, apart from last week it had been a fairly long time since I had joined that meme anyway. This week, however, I got a few books I really wanted to share and wasn't really sure how to do it.
Then,
Lucy
from
ChooseYA
(my blogger spotlight), asked me if I would be participating in
Letterbox Love
. This is a very new meme, so new in fact that the people who thought it up (
Kirsty
,
Laura
,
Carly
,
Lynsey
,
Emma
and
Leanne
) aren't sure who's going to host just yet, but that's okay! It seems like it's going to be great!
But what is it? I hear you ask?
Well, that's where the fun comes in! Letterbox Love is a UK meme for UK bloggers to highlight any books (and in my case films), that came through their letterbox that week!
(*If you're not a UK blogger, or not participating in this meme, but want to showcase me what you got this week, feel free to link me to whatever meme your using in the comments! I love seeing them!*)
Without further ado;
I got seven exciting new products this week! And, because this is a new meme and I don't have that many, I'm going to add some comments to each one! YAY!
First up, these are the items I bought this week;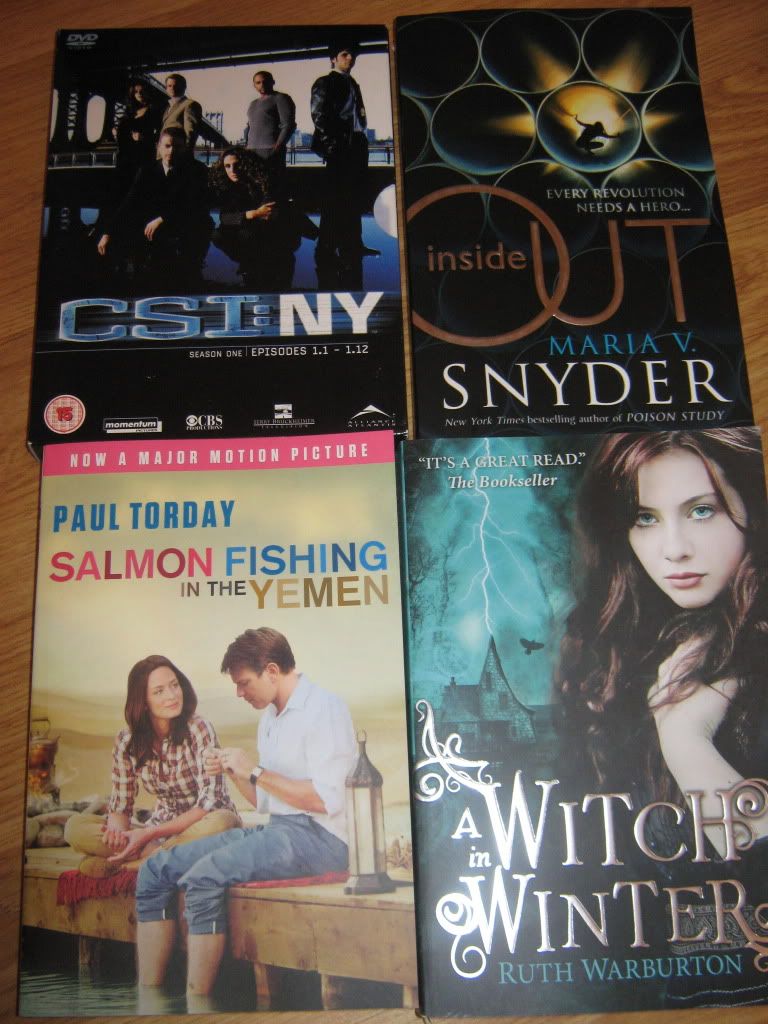 CSI: NY (Season 1: Part 1)
: This was bought for an extremely cheap price because it is second hand! It was bought to prep me for my upcoming exam on
Wednesday
as it is on contemporary US crime and television. I have a lot of hours to spend getting to grips with this show, that's for sure!
Inside Out by Maria V. Snyder: The first book of Maria V. Snyder was Touch of Power (Review here), and I absolutely loved it! It was one of the best books I had read in a while and it was just great! My blogger friend Brodie has been trying to get me to read more of her and so, because it was on offer, I got Inside Out and I am really looking forward to digging into this!
A Witch in Winter by Ruth Warbuton
:
This book was bought, again because of a recommendation from
Brodie
, and when I told her, she was extremely happy for me but also
Lucy
told me that it was a brilliant read and that the author is lovely! I am so looking forward to reading this and joining the love train.
Salmon Fishing in the Yemen by Paul Torday
: I had no purpose behind buying this book, I hadn't even known that the film (with the same name) was based on a book but when I went to purchase my ticket for the film at my local Odeon, I was asked if I would like to purchase the book for
£1.99
along with my ticket. Of course, the avid reader and book&film blogger in me simply couldn't resist. I then enjoyed the film and am now interested in reading the book and doing a lovely comparison review!
Wicked Lovely by Melissa Marr
: This was recommended me to by the lovely
Kathe
of
Good Lit Green Tea
. She told me that it was one of the best fae stories she had read and said it was better than
The Iron King
, so I really hope she was telling the truth! I got this on my Kindle and I am so excited for it!
Elemental by Brigid Kemmerer
: This was free on amazon so I didn't exactly
buy
it but I needed to showcase it! I read it on Friday Night/Saturday Morning and it is possible the best pre-quel that I have ever read. It really got me hooked and I now cannot
wait
to go and read
Storm
! My review of this will be up at some point over the next week!
Second up, I got this for review this week;
Black Heart Blue by Louisa Reid: I first off want to say thank you to Penguin for sending me this book for review. I read the summary and was instantly hooked. I honestly cannot wait to read this (and it's third on my 'read next' list so I'll be getting to it very shortly!). After it arrived through my letterbox, I watched the book trailer of it and this just spurred my need to read it that much more! I will definitely be adding the trailer to my review when it gets posted!!
And finally, this is what I won this week;
Bookmark Monsters!: These cute glorious little fellows were won from Jen at At Random and I absolutely love them!! They so cute and I'm already using the purple chequered guy! Heehe. And I got them while my friend was around revising with me and she gave me odd looks for loving them so much but then I put one on the corner of her macbook and she smiled. See, they're awesome! :D
That's all I got this week! So tell me,
what did you get? =]