When Dimple Met Rishi by Sandhya Menon
5 July, 2017
When Dimple Met Rishi by Sandhya Menon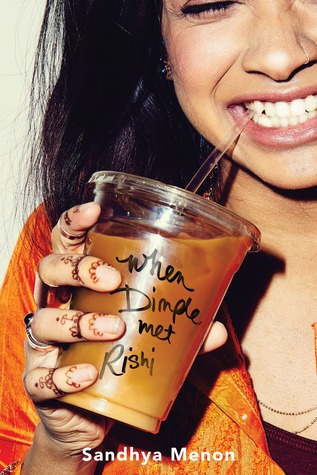 Title: When Dimple Met Rishi
Author: Sandhya Menon
Publisher: Hodder Paperbacks
Published: 1st June 2017
Pages: 384
Format: Paperback
Source:: Netgalley Copy
Add It: Goodreads, Amazon UK, Waterstones
Summary:

he arranged marriage YA romcom you didn't know you wanted or needed…
Meet Dimple.
Her main aim in life is to escape her traditional parents, get to university and begin her plan for tech world domination.
Meet Rishi.
He's rich, good-looking and a hopeless romantic. His parents think Dimple is the perfect match for him, but she's got other plans…
Dimple and Rishi may think they have each other figured out. But when opposites clash, love works even harder to prove itself in the most unexpected ways.
---
When Life
There is always a fear when a book starts to receive a lot of hype that it will never live up to the expectations that have been placed upon it. I had these very concerns over When Dimple Met Rishi but after many of my blogging friends urged me to read it, I decided to push the concerns aside and just get on with reading it. And I cannot be more grateful that I did. In the end, I fell head over heels in love with this book. There is so much to love about it but I don't want to spoil it too much for you – or over-hype it! But essentially this is a book that has gone instantly on to my favourites shelf and is one that I am certain I will be reading time and time again.
Gives You
When Dimple Met Rishi is the story of a girl who feels trapped in her circumstance and just wants some freedom from her parents and tradition. It's a coming of age story both for her and the absolutely wonderful Rishi too. Sandhya Menon has done a truly marvelous job of creating characters that are believable, and easy to fall in love with. They're three-dimensional and adorable. Strong but also weak. On top of all that, this is a character driven storyline and it as an exceptional one at that. It shows that we don't always get the life we planned but that is okay. It has amazing themes of acceptance, feminism, family love, friendships and perseverance. Last, but certainly not least, Sandhya has created a story that is intensely cute.
Lemons, Just
With a diverse and fascinating cast of characters who are all well thought-out and realistic, Sandhya Menon makes it difficult to choose just one to love. Thus I want to tell you about the two main characters in this book. First, and definitely my absolute favourite, is Dimple. Dimple is strong-willed, passionate and fiery. I loved reading about her and I ultimately loved her journey in the book. Next up is the ever-wonderful Rishi. Rishi is artistic, funny, adorable and caring. The perfect balance for Dimple, of course.
Make Lemonade
All in all, I really enjoyed this book. It was incredibly cute, wonderfully addictive and filled me with lots of heart-warming feelings. It also had me quite emotional towards the ends – seems I was quite invested in the characters. The storyline may have been a little predictable but to me, that's totally okay. This book is perfect just the way it is. It's diverse and it celebrates that so well. It reads well and is just a wonderful story that I will definitely re-read at some point. It is a book that I would highly recommend, especially if you're looking for something to fill your heart with hope and love.
** I received this copy from the publisher in exchange for an honest review. I was not compensated nor was I required to write a positive review. **