You're Getting Lucky!
7 March, 2012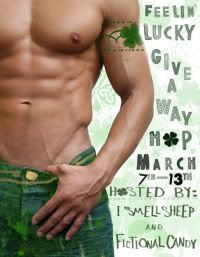 Feelin' Lucky Giveaway Hop!
So, a while back, I decided to sign up for a St. Patrick's Giveaway hop! Now, this lucky giveaway is sort of a triple celebration for me, so guess how many winners there will be…
I told you you were getting lucky!
But what am I celebrating?
two) I am FIVE followers away from 200!
three) on the 15th March, this blog will be SIX MONTHS old!
So, I'm kinda, amazingly happy about all of those things up there and so am going to give you some awesome gifts to say THANK YOU and just because I love giving things away :D
Wait… what are we getting?
ONE winner will get their choice of ANY of the books in the Iron Fey Series!
(I am absolutely loving it, and it's based on Irish Folklore, so you know, perfect!)
ONE winner will win ONE of Megan Curd's eBooks!
(I loved Bridger which is also set in Ireland and based around Irish Folklore, and I am sure Forbidden is brilliant too!)
ONE winner will win a book of their choice from The Book Depository! 
(Up to the value of £5 or $10 – I'm not rich, sorry!)
 Are you still feeling lucky? Yes? GOOD.
This blog hop has been hosted by I Smell Sheep and Fictional Candy and what a lovely idea it was! I love both of their blogs and think that you should all go and check out their blogs while you can!
And, once you've entered my giveaway, go check the linky list at the bottom of this post and join all of the others! :D
a Rafflecopter giveaway
<a href="http://rafl.es/enable-js">You need javascript enabled to see this giveaway</a>.