Blog Tour: Super Awkward by Beth Garrod
11 September, 2016
Super Awkward by Beth Garrod
Hi Guys!
Today I have for you all a guest post by the wonderful Beth Garrod as part of her Blog Tour!
But first, here's some info on the book!
---
About the Book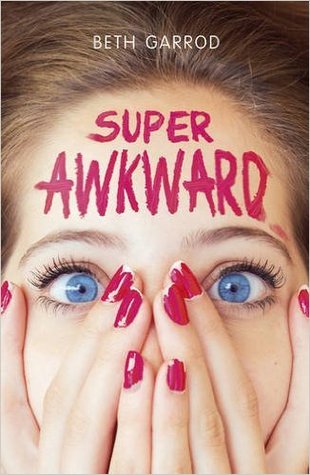 I, Bella Fisher, am absolutely WINNING at FAILING at life.
1. I once got my tongue stuck to a box of Calippos in a supermarket.
2. I accidentally called my geography teacher Mum. Twice. He wasn't impressed.
3. I'm a geek. And not in a geek-chic kind of way, but in a secretly-caring-about-failing-maths-and-science way.
4. I always fail maths and science.
So it figures that when I meet the FITTEST BOY IN THE WORLD, Zac, I'm doing solo star jumps. While dressed as a cereal box.
(NOTE TO SELF, fancy dress = HE-WILL-NEVER-EVER-FANCY-ME dress.)
Now I've got to somehow persuade Zac to come to prom with me while avoiding my evil ex and dealing with a secret so mega-awks I want to Ctrl-Z my brain… What could go wrong?
Oh yeah, that's right. Absolutely everything.
---
Top 5 Super Awkward Moments
By Beth Garrod
Have you ever had a moment that was so Super Awkward you wished you could delete the memories of people who were there at the time, and put a worldwide ban on people ever thinking – let alone mentioning – it ever again?
Ok. Well then imagine that. And then imagine writing them into a top five list for the world to see. WELCOME TO MY LIFE.
(Although thanks for asking me, I'm actually quite excited). So here goes.
I'm terrible at sports (I include bowling and Jenga in this). So a school ski trip was never going to be a great idea for me. However, what I didn't know was that the mountain wasn't going to be my biggest nemesis – the T-bar chair lift was. But with no other option, I had to face it. So, with the whole school trip watching (and all the tiny children that were already laughing at how bad I was at skiing), I balanced myself on it, alongside my best friend. But an overly large laugh, became a wobble, became the sticky out bit of the T bar getting hooked in my ski jacket. Which soon became one entire boot and ski being yanked off as I got dragged up the entire length of the mountain (my friend laughing too much to be able to stand up). I even went through those weird bars at the top, which are meant to act as a life-sort-of toothbrush to scrape off any morsels. But this human morsel made it through. And then I had to plod the entire way back down a mountain in one ski. And one sock.
One year I truly believed I'd met the World's Sexiest Man. He was super hot and super cool, so every message I sent was a carefully crafted group-approved effort to make me seem like the kind of person who doesn't actually sometimes accidentally-clap when she sees a dog with really good eyebrows. One particularly helpful friend had a part time job at my local supermarket. So I text him 'When can we hang out in the freezer department of Tesco and talk about the World's Sexiest Man?' But I sent it to WSM. Who I then had to pretend that I'd meant to send this too, and it was a genuine date idea, based around a discussion of a fit man, who wasn't him. We never had a second date.
I'm a big believer in the 'it gets better' philosophy. However, in the case of me, and being awkward, this has just proved to mean I've got better at nailing the art of being awkward. Case in point – a big work event in Italy, a huge screen on the wall for the audience to stare out, a work laptop projecting our logo. All fine. Until I panic my phone battery is running out, plug it in, and oh guess what, NO ONE TELLS ME I'M NOW PROJECTING MY CAMERA ROLL TO THE WHOLE VENUE (or maybe they were telling me, but they were just doing it in Italian, and I thought they were asking for directions to the loo).
This one's I may have attributed to Bella – the lead character in Super Awkward. But sadly, it may, have hypothetically, been all me. And – yet again- it involves sport. Seriously – it's bad for your health. It was the final Friday before a half-term, that was going to be full of seeing my friends, and going to parties – which was kind of a big deal when the height of my social life was normally helping my dad choose wall plugs in Homebase. But with the last lesson over, all I had to do was survive a rounders match and I'd be freeeeeee. In the safe – not much action – zone of deep field, I spent most of the match chatting to my friend. Until I heard my name being yelled and span round. Only to be whacked on my already large chin, by a rounders ball that seemed to be travelling faster than the speed of light. For all intents and purposes, the massive bruise that formed made me look I had developed an overnight beard. And it stayed the entire half term.
Some words I don't normally think of. So when my mum drove us home one day, and we popped into the local shop, it stuck in my mind when she said "Whatever you do, don't look at the man behind the counter's toupe'. Like a polite person, I totally didn't, despite it being bright orange, sitting awkwardly on top of some sticky-out grey hairs. I saw other customer's clocking it, but I was better than that. And I'd been warned. So, when I got to the counter and he asked what I wanted, it was a 100% accident when I replied clearly, loudly, calmly with 'one toupe please'. The whole shop shut up. His wife gave me evils that melted actual skin cells. And I never – to this day – have been back to the shop.
Soooo, there is a tiny glimpse into the everyday danger that is being me. But I always figure that what doesn't kill you, makes a funny story for someone else.
---
What are some of your super awkward moments?