Book Review; Under Rose-Tainted Skies by Louise Gornall
24 June, 2016
Under Rose-Tainted Skies by Louise Gornall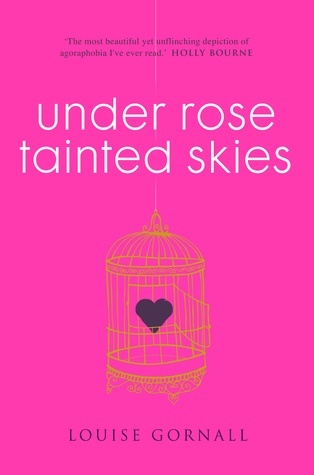 Title: Under Rose-Tainted Skies
Author: Louise Gornall
Publisher: Chicken House
Published: 7th July 2016
Pages: 368
Format: Paperback
Source:: Review Copy
Add It: Goodreads, Amazon UK, The Book Depository
Summary:

Agoraphobia confines Norah to the house she shares with her mother.
For her, the outside is sky glimpsed through glass, or a gauntlet to run between home and car. But a chance encounter on the doorstep changes everything: Luke, her new neighbour. Norah is determined to be the girl she thinks Luke deserves: a 'normal' girl, her skies unfiltered by the lens of mental illness. Instead, her love and bravery opens a window to unexpected truths …
An important and uplifting debut from a British author, which tackles mental health issues such as agoraphobia and OCD.
---
When You're
Every now and again you pick up a book and everything suddenly changes. This is a book that completes you. A book that makes you feel less alone. That makes you feel understood. These is what happened when I picked up Under the Rose Tainted Skies. I thought it might because the description sounded brilliant. It sounded like, if done correctly, it was going to change things. And then it did. It was clear to me from the very first page that this book was going straight onto my favourite shelf. It was obvious after only one sentence that this book was going to speak to me. There were a few small things about this book that irked me but overall, it was a stunning read that I absolutely loved from start to finish.
Confined to Your
There were many ways in which this book could have flopped, many ways in which this book could have been a disaster, but instead Louise Gornall has written a brilliant book that is full of realistic and interesting descriptions of someone dealing with Agoraphobia. Everyone will handle their mental illnesses differently, they'll have different thoughts and different reactions but I feel this was a very good representation of how some people react. Which makes this book the perfect fiction novel to make people feel understood, but also to educate others on empathy, to make others learn more about what it is like when the world scares you. It's a wonderful depiction of this mental illness and a good picture of what having OCD or anxiety can be like and how best to treat someone with it.
House, How Do
Louise has done a fantastic job of writing believable and interesting characters. Norah was the most detailed and well thought out and I found her story to be a wonderful read. You could really understand her troubles and wanted nothing more than to help her deal with them. I also really liked her mum, even though she's not seen that much. I really loved that she was so supportive and caring and kind throughout Norah's illness. While I liked Luke and thought he was a very interesting character, I wasn't overly fond of him. There were just a few things that happened that made me a little suspicious of him. But overall I thought he was an okay character and was good for Norah.
You Survive
In case you're not sure, I absolutely one hundred percent loved this book. Like, loved it so much I am willing to stand on top of a rooftop and declare my love for it. It's a powerful, hard-hitting, emotional read that is incredibly important and also wonderfully written. It is a real page-turner. With a brilliant, brilliant, description of mental illness and the way it can really effect more than just the person suffering. It's a strong story that should be read by many and read over and over again too. Add this book to your wishlist immediately and read it as soon as possible. You won't be disappointed.
** I received this copy from the publisher in exchange for an honest review. I was not compensated nor was I required to write a positive review. **