Friday's Favourite Film Release #6
2 December, 2011
It's Friday! And that means it's time for Friday's Favourite Film Release! For those unfamiliar with this, it basically means that I will describe each of the films that have been released this week and then I will be picking my favourite, which literally means the one that I cannot wait to watch!
So the releases this week are; 
Happy Feet 2 3D (Release Date 2/12/2011)
The sequel to 'Happy Feet', the animated smash hit, 'Happy Feet Two' returns audiences to the chilly climes of Antarctica in stunning 3D.
Mumble, the dancing penguin, discovers that his young son Erik has two left feet. When he runs away in shame and is taken under the wing of The Mighty Sven, a flying penguin, Mumble soon slips down the pecking order.
'Happy Feet Two' then proves that a lot of love, along with a little help from your friends, can go a long way.
TRAILER: http://www.youtube.com/watch?v=twYq5QkNPKw
[Initial Thoughts: So, from the trailer of this film it looks like they are literally bringing in audiences from the first film and while I love Happy Feet, I'm always a bit wary of sequels. It would be interesting to see if this film is any good.]
Hugo 3D (Release Date 2/12/2011)
Set in 1930's Paris, 'Hugo' tells the magical tale of an orphan who has secretly made his home in a train station and spends his time tending to the railway's clocks. When he tries to fix a mechanical man, he sets in motion a series of events that threaten to unlock all his secrets.
Based on Brian Selznick's best-selling children's novel 'The Invention of Hugo Cabret', 'Hugo' is brought to the screen in 3D by Martin Scorsese, and features an all-star cast including Ben Kingsley and Jude Law.
TRAILER: http://www.youtube.com/watch?v=qjSNBP4P9RU
[Initial Thoughts:  I honestly first thought that this film was going to be an animation, and so when I saw the trailer I was actually quite surprised. I didn't actually watch this trailer, I couldn't find the one I saw in the cinema but, I was definitely intrigued and interested by it! Looks like it could be an interesting film.]
The Big Year (Release Date 2/12/2011)
Comedy 'The Big Year', from director David Frankel (The Devil Wears Prada), follows three men who break free from their mundane lives to follow their dreams in a most unlikely way.

Bored of living according to other people's rules, comedy heavyweights Steve Martin, Jack Black and Owen Wilson spend 365 days doing things their way…and competing to spot the rarest birds in North America in a year-long competition that takes them on a cross country adventure of life-changing proportions.
[Initial Thoughts: I'm always a bit wary of comedies as everyone has their own sense of humour and all that but I think this one looks like an okay film. It looks like it has potential at any rate!]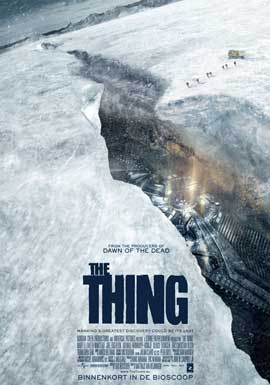 The Thing (Release Date 2/12/2011)
An Antarctic research project becomes a mission of survival in 'The Thing', the edge-of-the-seat prelude to John Carpenter's 1982 classic.
The international team of scientists working at the isolated base discover an organism imprisoned in ice. When they accidently release it, they unwittingly become prey to a cunning parasite with the ability to transform itself into an exact replica of anything it touches.
As their paranoia grows and their numbers dwindle, they must stop the 'The Thing' before it destroys them and moves on to the rest of the world.
TRAILER: http://www.youtube.com/watch?v=UKjErC2JLQc
[Initial Thoughts: This trailer definitely got me captivated. I know there are plenty of films like this on the market but the premise just seems so interesting, doesn't it? The idea of not knowing if you're shooting an enemy or a friend? What happens if you choose the wrong one?]
THE FAVOURITE: The Thing
I did contemplate between this one and Hugo but I finally chose The Thing because the trailer just really spoke to me and now I cannot wait to see more of it by going to watching the entire film. It just looks so interesting and spooky and is just my kind of film. So yes, this one would definitely be my favourite!!