Guest Post – Wenona Hulsey
26 March, 2012
Hey Guys!
So today I am introducing you to the lovely and wonderful author Wenona Hulsey. She has kindly agreed to write a guest post for you all today to introduce you to her series, The Blood Burden Series.

So, without further ado, let's meet her!
 ———-
Big thanks for letting me join you today.  I love doing guest post because I love meeting new people.  So after reading this, don't be a stranger, I'm always hanging out at some social network table so come chat with me.  I'm leaving you the address to my favorite places at the end of this post!
How about I tell you a bit about me first, the person behind the pen? I'm Wenona Hulsey, mother of two and blue collar worker by day.  But at night I turn into Wenona Hulsey, master of words and worlds.  I've always written for as long as I can remember. I kept journals off and on from the age of nine but I really got into writing about a year ago. I was searching for a creative outlet during a time in my life when I felt like I was living in a rut.  I sing terrible, I dance like I'm having seizures and my art looks like stick figures so I turned to what came easiest to me —writing.  I started working on my first novel, Burden of Blood, and it moved along remarkably fast.  I guess that could be contributed to my recent binge reading of all books labeled paranormal romances but I had an idea of what I wanted and I put it to paper.
As I was nearing the end of my writing frenzy on Burden of Blood a fascinating novelette idea popped into my head and Blood Awakening was born.  It works as a back story to two of the main characters in Burden of Blood, giving you more detail and insight into who Nicole Keenan and her best friend Kat were before their world was turned on its head.  I would consider Blood Awakening more of a thriller, suspense with a dash of paranormal and comedy thrown in.  But Burden of Blood is full on Paranormal Romance with hot warriors and gothic fairies in leading roles.
Now that I've sent both Blood Awakening and Burden of Blood out into the world, I'm working on book two in the Blood Burden series which is titled Blood of Fire.  I'm hoping to have this one published in summer of 2012.
Okay, I'll stop yammering away and give you all the juicy details about my books and a bit on where you can find me if you want to chat.  Thanks so much for letting my join you today!
Nicole, a small town Alabama girl, and her best friend Kat take a weekend trip to Panama City, Florida. Kat looking to have a good time and Nicole hoping to escape the pain of losing her mother for a little while. Little did Nicole know, the escape would awaken an ancient power that is hidden in her blood.  A power that evil wants for its own and will do whatever it takes to have it.
This short story is a look into best friends', Nicole and Kat, life before a centuries old grudge and Nicole's emerging powers rips them apart. A power that Nicole wants no part of as it brings her to her knees and forces her to walk away from her small town life and everyone she loves.
Blood Awakening ebook can be found on Amazon for 99 cents.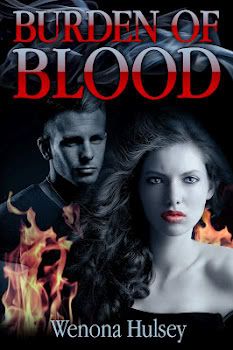 No one wants to know everyone's darkest secrets, especially not police officer, Nicole Keenan. All she wants is a blissfully normal life in the small, Alabama town where she was born. But as generations of power running through her veins start to wake up, an ancient grudge is ignited that threatens to push her over the edge. She can hardly believe in what she is, let alone that a dark force will not stop until she joins them. Or is dead.
Nicole Keenan's life enters into a dangerous dance with warriors and gothic fairies. Southern tradition collides with Irish folklore as she learns about love, heartbreak, and The Burden of Blood.
Burden of Blood ebook can be found on Amazon.
Author Wenona Hulsey is a lover of all things written. When she was a child, you could find her reading anything from Edger Allen Poe to the back of cereal boxes. Today you will find her with an ebook reader glued to her hands except for the times when she is writing or spending time with her family. She is also an avid social networker, who loves to meet new people. You can friend her on Twitter http://twitter.com/#!/WenonaHulsey, like her on Facebook http://www.facebook.com/WenonaHulseyAuthor  or follow along on her Blog http://www.wenonahulsey.com/.