#ReadWithPride; George by Alex Gino (+ Giveaway!)
1 July, 2017
#ReadWithPride; George by Alex Gino
Hello All!
Today I am here with a mini-review of the fantastic George by Alex Gino and a chance to win one of three copies too!
---
About the Book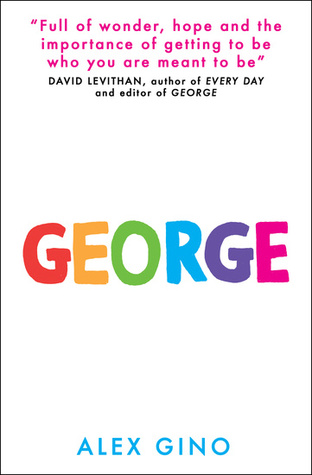 "When people look at George, they think they see a boy. But she knows she's not a boy. She knows she's a girl.
George thinks she'll have to keep this a secret forever. Then her (4th grade) teacher announces their class play is going to be "Charlotte's Web." George really, really, REALLY wants to play Charlotte. But the teacher says she can't even try out for the part …because she's a boy.
With the help of her best friend, Kelly, George comes up with a plan. Not just so she can be Charlotte – but so everyone can know who she is, once and for all.
---
Mini Review
After reading it in 2015, George stayed in my mind for a long time as it was a truly incredible and entertaining read that made me feel very emotional. In 2016 in a round up on Big Book Little Book I said, "I absolutely adored this book from start to finish. A true coming of age story about a boy who wants to dress like a girl. It is a lovely cute story that everyone should read." And to this day, this book is still one of my utmost favourite LGBT books. George is an adorable but powerful and intensely moving read that looks on a very serious issue in a way that allows you to truly empathize with the main character. For a MG that is very good at being a YA Crossover, this book is just such an important novel that I honestly want every child and teenager to read. It's one of those books that is easy to read, easy to fall in love but incredibly difficult to forget.
So if you haven't read this book yet, why not enter the giveaway to make sure you don't miss out on this absolute gem of a read!
---
Giveaway
To win one of three copies of George by Alex Gino, all you need to do is head on over to Twitter and RT the following tweet:
(Click the image to go to the tweet in twitter)
The giveaway ends on 8th July and winners will be notified on twitter.
Winners will have 72 hours to confirm acceptance of their prize.
Winners MUST live in the UK or IRL.
Good luck!
---
What books will you #ReadWithPride?