LGBT April Wrap-Up
30 April, 2014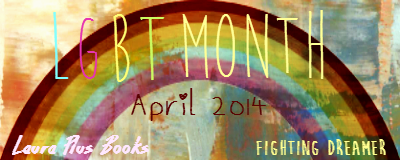 This month I was participating in LGBT April and I had a really fun time doing this! While I didn't quite get to as many LGBT books, reviews or posts as I wanted but I still got to a book I would have left sitting on my shelf for ages otherwise!
I read;


Will Grayson, Will Grayson by John Green and David Levithan
I really liked this book. The characters were lovable and easy to connect to and it made me feel very emotional. This story doesn't make being gay the subject, but being human and I loved that about it. It deals with depression, bullying, seeing others differently and just opening up. There were a few issues I had with the book but essentially it was a lovely read that I would recommend!
I reviewed;


Love Letters to the Dead by Ava Dellaira
This is a book I loved! For many different reasons but I just found myself really connecting with the main characters in this book. Such a lovely story. Read the review for more reasons why you should read it!
I wrote this article;
Top Five Read & Top Five To-Read
Have you read any of the books I've read or ones I really want to read? What do you recommend I get to reading first?
---
All in all, I still say it was a successful month and I look forward to participating in more things like this in the future!
Did you participate in the month? How did it all go for you?