Series Week – Day Five
29 February, 2012
Hey Guys!
Today I am introducing you to the amazing Lucy over at ChooseYA. This girl is one blogger I've really connected with and I'm so glad I did!
I'm really thankful that she was happy to do a guest post for you guys! She has listed her top ten series, and I hope you enjoy her post as much as me! 
I can't thank her enough for helping me out.
My top 10 YA series
It seems that in the current market, the standalone young adult novel is a bit of a rarity. Sometimes this is great as the first novels leave room for more questions to be answered and events that need to happen for a satisfactory conclusion, other times… Well, it can feel a bit unnecessary. Therefore I decided to share my top ten young adult series for my guest post here and why I love these ones in particular. So without further hesitation, here we go:
Occasionally I begin  get to a point where I feel this series may be going on too long, then an addition like Last Breath completely and utterly rejuvenates my love for the series. The romance between Shane and Claire has benefited from the time spent in the books developing it slowly and there is a soap like quality to the books – generally ending on cliff-hangers or revelations – that Caine masterfully uses to make you need more. I love her characters and her dialogue.
I haven't read these in years but when I was fourteen I literally read them all in a week and just loved them. It's about a girl who discovers she is a witch and I just remember loving these books so had to include them.
Awesome series I cannot wait to see more of: based in London, main character can see ghosts, what else do you want? It's well written to boot, and it really left me wanting more at the end of the last book.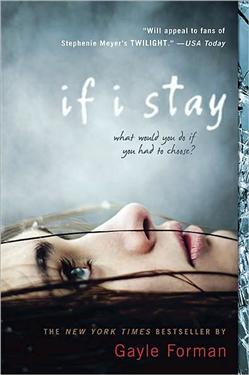 7.
If I Stay/ Where She Went
by
Gayle Forman
.
A heartbreaking read which is taken to a different place in it's sequel and is incredibly well written. The concept of If I Stay is stunning and heartbreaking, while  Where She Went is a beautiful story of rediscovering your first love and second chances. Both books could stand alone in my opinion but are heightened when they are compared and placed together.
A truly awesome take on faeries that is constantly developing and leaving wanting more. For me, the plot rather than romances drive it forward which is always a good sign for me of YA as romance is a secondary concern to me in most cases. I love the idea of modern fey, I really like Meghan and on a superficial note these books have fabulous covers!
5.
Gingerbread series
by
Rachel Cohn
.
Possibly my favourite contemporary Ya series. I adored Cyd Charisse and her development and journey through the books. Highly, highly recommend this one. As a teenager, I really felt for the characters and now I just love how much Cyd grows and works out what she wants from life as they progress. 
4.
Soul Screamers
by
Rachel Vincent.
This is a series that from the first novel you know requires books to follow it, Like the Morganville series, it has a serial tv show feel and each addition feels like a new episode. The first book dealt with the power Kaylee discovered and the following books show her adapting to them and much much more. Also each book refers to other books and the universe Vincent creates is very well written and fun to read.
3.  Raised by Wolves by Jennifer Lynn Barnes. 
An inventive werewolf series with an awesome protagonist who is constantly growing. Each book feels necessary and not superfluous and develops naturally on from it's predecessor. It has great dialogue and well written action too. I love Bryn's friendships and her surrogate family's interactions.
2.
Unwind
by
Neal Shusterman.
Okay, so technically only one book so far is out in this series but I need to know more absolutely desperately and the story is nowhere near complete. The concept of this series is utterly, utterly terrifying and so plausibly written it truly chilled me. This is one of the best recent dystopias created in YA and I recommend it to everyone.
1. The Hunger Games by Suzanne Collins. 
We needed the extra books in this series in my opinion. I had to know about the consequences for Katniss of the berries and more than that the oncoming revolution. Each book is rich in plot, character and development and utterly engaging.