Weekly Highlights; The Future Of This Blog Edition
18 May, 2015
Weekly Highlights is a feature here at A Daydreamer's Thoughts
and will be a post highlighting things that happened on and off the blog. It is inspired by The Story Sirens
In My Mailbox
, Books, Biscuit and Tea's
Showcase Sunday
, Kimba Caffeinated's
Sunday Post
, and the British
Letterbox Love
.
In the feature I won't mention everything I received, nor every post I wrote during the week but will simply feature a selection of things I wish to spotlight a second time around.
---
Post Highlights
It's been fairly busy on my blog this week, which I'm happy about with a post on nearly every day! Yay! I also posted a very important update.
I posted TWO reviews;
Scorch by Gina Damico (FIVE HEARTS)
Don't Turn Around by Caroline Mitchell (FOUR HEARTS)
I also told you about some changes happening on this blog, you can find out what they are here.
On Saturday I posted a recipe of one of my favourite dishes; Aubergine Parmigiana. To know how to make it yourself, click here.
---
Blogger Spotlight
This week I also posted an interview with the lovely Sofia at The Reading Fangirl. You can read it here.
Also, Sofia participated in Vivienne's Blogger Island Books this week. You should definitely check out which books she would need with her if she was stranded on an island.
---
LGBT Readathon
I also announced the LGBT Readathon this week! This will be running from May 25th – May 31st. The idea is simply to read as many LGBT (LGBTQ, QUILTBAG, etc) books as possible in that week. There will also be a twitter chat on the Sunday.
For more info and to sign up, click here.
---
Around the Blogosphere
Daphne revealed the cover of the wonderful The Winners Kiss by Marie Rutkoski. You can see it here.
Amber has written a great post about dealing with exam stress. If you're one of the millions currently sitting or about to sit exams, you should read this post.
My jealousy knows no bounds upon stumbling across this post by Jim. An author interview with none other than the amazing Morgan Matson. Check it out here.
This week Sophie discusses how reading classics changed for her while she was studying her English Lit degree and has now changed again now it's over. For a fascinating and intriguing post, click here.
Anya has written about books that make her laugh out loud. I think she has chosen some great books and some others I definitely need to invest in. To see the books chosen you can go to the post here.
Karen McCombie, one of my ultimate favourite childhood authors, wrote a post about ideas this week that I loved. You can read that here.
And because it's also Mental Health Awareness week, here are a few posts I loved reading this week that I definitely think you should read;
OCD: My Glasses and Me
MentalHealthYA Chat
Charli – Depression, Anxiety and Panic Attacks
Five Eating Disorder Misconceptions
---
Letterbox Love
I actually only got one book this week! I'm rather proud of this feat. I do, however, have three books waiting for me to collect at the library but umm… we're ignoring those for now…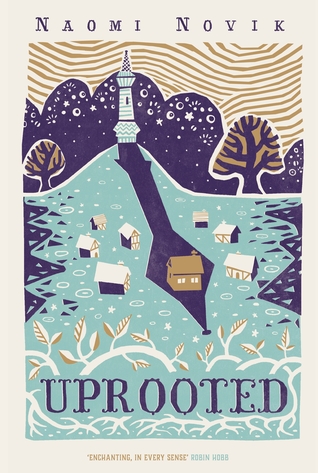 Uprooted by Naomi Novik; I don't really know anything about this book and it turned up as a surprise as I don't remember requesting it. It does sound quite interesting though. Many thanks to Macmillan for this copy.
---
Currently Reading
---
And there you have it, my Weekly Highlights!
What Did You Get This Week? What Cool Blog Posts Did You Stumble Upon? What Are You Reading This Week?