Glaze Blog Tour Wrap-Up!
30 June, 2014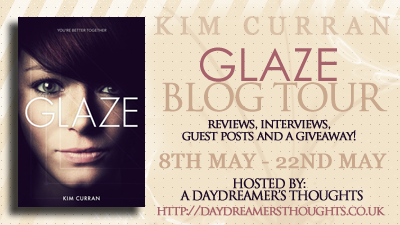 Hey Guys!
I know this is going up a little late as the tour finished AGES ago but life got in the way but better late than never, right?
Anywho, I'm here today with a wrap-up of the Glaze blog tour with a list of all the posts and the blogs they were on, some great review quotes and the announcing of the winner of the giveaway!
---
Tour Posts
Word to Dreams – Review
Making It Up – Guest Post
Nut Press – Review
Death, Books, and Tea – Guest Post
Blog of Erised – Guest Post
Nyx Book Reviews – Guest Post
Big Book Little Book – Author Interview
Snuggling on the Sofa – Review & Guest Post
Much Loved Books – Review
A Daydreamer's Thoughts – Review
Bookish Outsider – Review
I Hate 00 Critics – Release Day Blitz – Exclusive Excerpt!
A Daydreamer's Thoughts – Release Day Blitz – Exclusive Excerpt!
Ya Yeah Yeah – Guest Post
Kirstyes – Character and Author Interview
Uncorked Thoughts – Author Interview
Under The Mountain – Review
Kool Kat Kitty – Review
Over The Effing Rainbow – Review
Choose YA – Guest Post
Curiosity Killed The Bookworm – Author Interview
The Man of Words – Review
Adam Christopher – Guest Post
To Another World – Author Interview
---
Review Quotes
"A unique story that makes one think about the possibilities out there." – Marni at Word to Dreams
"Kim Curran's latest book is a clever, yet disturbing, fast-paced chase through not only a dystopian London of the near future but the omnipotent social network that is GLAZE." – Kath at Nut Press
"Glaze was a real page turner for me." – Michelle at Much Loved Books
"Full of mayhem and intrigue, Glaze is a unique story about the dangers of social media and whether ultimately it can be good or bad." – Fi at The Bookish Outsider
"I zoomed through it, and enjoyed the mix of action along with character development and the detail about technology." – Debbie at Snuggling on the Sofa
"The world felt new and different, in a sea of books that all feel the same after a while." – Vickie at Under The Mountain
"It's fresh, it's energetic, it's exciting." – Lisa at Over The Effing Rainbow
"It's an intensely clever, uniquely sweet and completely involving story and one that feels uniquely timely in a way that won't date." – Alasdair at Man of Words
---
Giveaway Winner
The winner of the amazing tour-wide giveaway was
Meredith
Congratulations! Hope you enjoy your prizes!
---
A Big Thank You
Finally, to wrap up, I want to send out a big THANK YOU to all of the bloggers who took part and for everyone who followed the tour and to Kim for being such an amazing author to work alongside. I think the tour was brilliant and ran really smoothly and I'm just really proud of everyone who took part! So thank you all. Really, really appreciate the time you put in to make this tour so great!
*and on a final note, if you have reviewed Glaze (even if it wasn't for the tour), don't forget to cross post on Goodreads and Amazon as it really helps the author!*
See you next time!